Fuerteventura is one of Europe's best surfing islands and is often referred to as Euro-Hawaii. The Canary Islands are the perfect refuge from the North Atlantic's harsh winters, meaning you can soak up some sun and score waves without pulling on the 5mm. Here's everything you need to know about surfing in Fuerteventura. 
Fuerteventura Surf Season
Because of the variety of spots, you can surf in Fuerteventura any time of year. However, during the summer, the Sirrocco winds that whip up from the nearby Sahara desert and reek havoc with the conditions, combined with minimal swell, transforms the place into more of a kite surf haven than a surf destination. 
During the winter, things are much different. Between October and March, Fuerteventura is a surf paradise, with solid swells marching across the North Atlantic; the islands' abundance of volcanic reefs shape each swell line into all sorts of weird and wonderful shapes–defining the wide variety of spots on offer here. 
Fuerteventura, an exact translation of windy place, gets super windy, even in winter. For the least windy conditions, head to the islands between October and December. 
The Best Surf Spots in Fuerteventura
Fuerteventura boasts several world-class waves, many of which are thumping, powerful volcanic reefs. But if that sounds intimidating, don't worry; there's more than just that. 
The main wave in town, Rockies, on a typical day, is a fun, A-frame peak with mushy whitewater waves. It can be one of the best beginner/intermediate-friendly surf spots on the island and is also super fun surf for advanced surfers on bigger swells.
But don't be fooled; Rockies has one of the sharpest volcanic reefs you'll ever surf, so be careful and wear reef boots if you have to.
On the most humungous swells, Rockies outer reef transforms into a Hawaiian-style bombie with huge throaty barrels. Some of the island's best waves have been ridden here, which is hard to believe on a normal day. 
A super consistent, powerful left-hander that almost never goes flat. You can all but guarantee a surf on most days!  However, when the swells up, the place gets solid, with a sweeping current and a long paddle out. A good option if the more premier waves are blown out or not working.
The crown jewel of surfing in Fuerteventura. Los Lobos is a perfect right-hand point, just off the main island. with boat and ferry access only; Lobos is world-class and arguably one of the best waves in Europe! But for this reason, it's seriously crowded and should only be ridden by advanced surfers.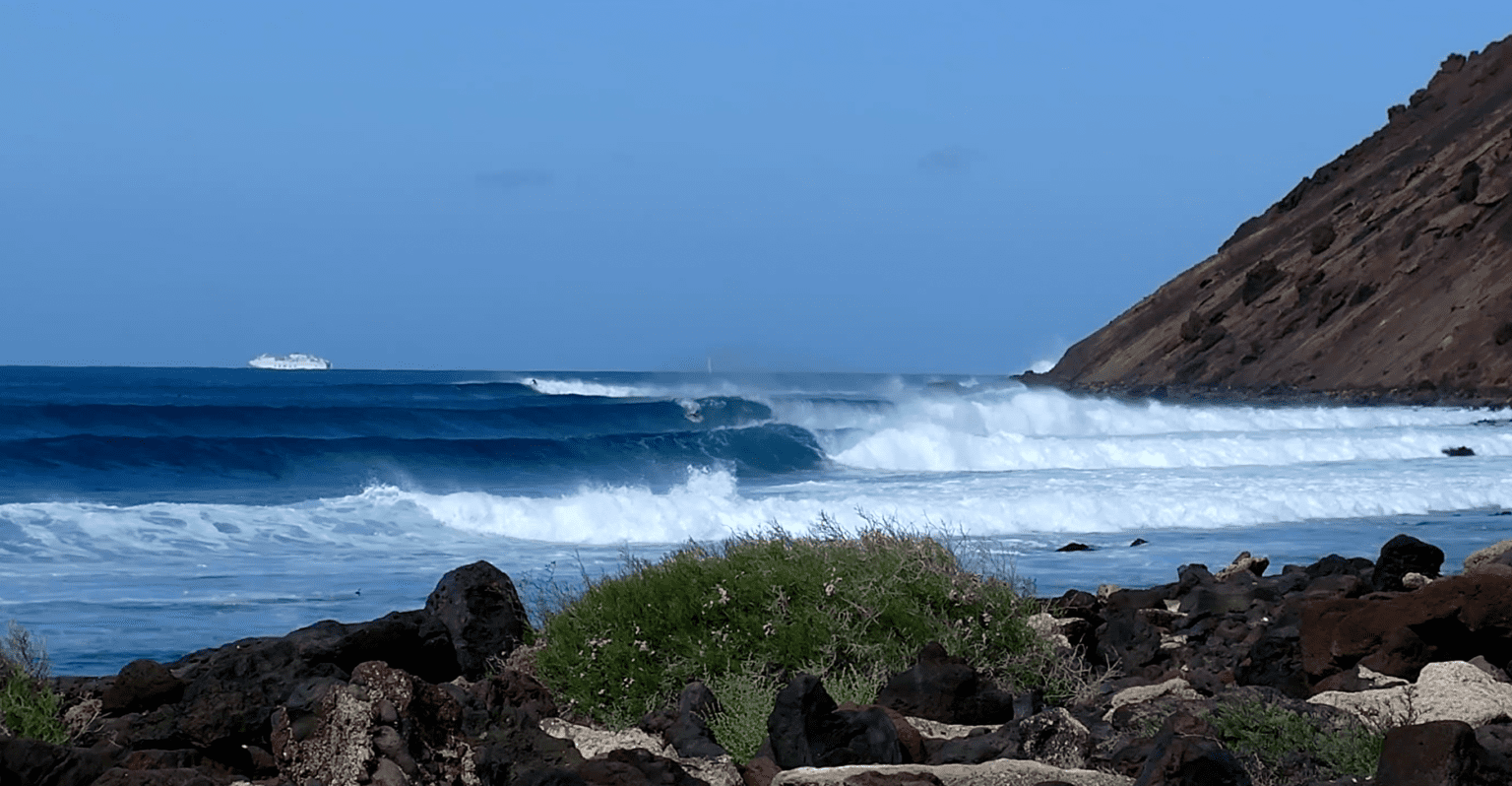 On the north track, there are countless epic waves, all with their unique characteristics and intricacies. The only way to score them is to put the time in and in and check them on different swells and winds. Yarro is one of the most popular and consistent options in the area, an A-frame that almost always has waves.
To the West of Yarro lies Germans. A wave nick-named from the huge volumes of German surf camps prevalent in Fuerteventura. The wave is a right reef break with sloping mushy rights that can be fun on larger days.
A heavy, A-frame slab, with wedgy barrels exploding onto the shallow volcanic reef. An incredible wave when it's on, usually packed with local bodyboarders and chargers. Expert surfers only, but if you can snag a wave here, it's one of the best barrels and most rewarding waves in the area. The wave resembles Chile's infamous El Gringo. 
A beach break on the west of the island, A beautiful beach that unfortunately closes out most of the time. Many surf schools use this as their go-to as it is one of the only sand-bottomed breaks on the island. Worth a check if the north track is blown out and you want to check out the cool little town of Cotillo simultaneously. 
Fuerteventura Surf Spot Map
How to Get to Fuerteventura?
Technically part of Spain, the Canary Islands are located 100 km off the coast of Morocco, another world-class surf destination for Europeans looking for winter sun and waves. You can fly directly to Fuerteventura and the other major islands from most large European cities. Check out the cheapest flights here. RyanAir and EasyJet have some crazy cheap fares! 
*Before booking flights in Europe, be sure to check my guide on surfboard baggage fees, to make sure you're not paying stupid money for boards! 
How to Get Around Fuerteventura?
Once you land in Fuerte, you'll need a car. While you could make do without wheels, hiring a car will increase your wave-scoping abilities tenfold. Grab a rental car from the airport or book online.
The airport is a mere 30 mins from the island's main town, Corralejo. There are several towns dotted around the northern coastline of Fuerte, but if you want convenience, and easy access to numerous fun surf spots, restaurants, cafes, and bars, Corralejo is where it's at. 
You could take a bus form the airport to Corralejo and stay in town. You'll be limited but can still walk to everything in town including Rocky Point, Harbour Left and most importantly, the boat to Lobos! 
In Corralejo, there are many accommodation options. Here are some of the best, no matter what your bank balance is saying. 
An adults-only accommodation on the outskirts of Corralejo, just outside to escape the hustle and bustle. Aloha surf house is a great place to base yourself when surfing in Fuerteventura, meet other travelers, and enjoy a comfortable space. Aloha Hostel boasts a pool, garden, and patio to chill between surf sessions.  
Another wicked surf hostel perched on the edge of town. While you'll want a bike or car to reach most of the surrounding surf spots, you can walk to Rockies if you need to. Bhavana offers privates starting at $55 USD per night (sleeps 2).  
Habitaciones Residencial Corralejo
If you're after your own apartment, with a beautiful shared pool and close to several restaurants and bar, this is the spot for you. Oh, and ypu're only a 10-15 minute walk from Rocky Point–the main wave in town. Learn more about Habitaciones Resedencial Corralejo here. 
Digital Nomad Surfing in Fuerteventura
The Canary Islands are among some of the best digital nomad surfing destinations on earth. With a relatively low cost of living, and an abundance of cafes and workspaces, you can't go wrong with getting waves and getting work done in Fuerte! 
Non-Surfing Activities in Fuerteventura 
While the focus of your trip will largely be focused on chasing the variety of waves on offer and matching the charts to the spots you think will handle the winds and direction best, there comes a time, albeit not very often, when the winds blow out most of the spots, or the swells back off and so you need to look for alternative entertainment. 
While you can trash yourself at the various bars and clubs in town and sip cervezas until the early hours, there are several other cool things to do throughout Fuerteventura. For example, go Snorkelling over on Lobos Island, hike the volcano close to town, or just relax on one of the many beaches and coves dotted around Corralejo's harbor.
For something more adrenaline-fuelled, take a car or buggy and rag it around the off-road tracks prevalent around the northern end of the island; heaps of fun! Just don't tell your hire car company. 
Surfing Fuerteventura - Final Words
If you're looking to escape the harsh, miserable, and sometimes wave-starved European winter, the Canary Islands and Fuerteventura could just be the perfect escape route…
With an abundance of waves for all abilities, consistent swell, warm water, and sun 360 days per year, seriously, it hardly ever rains, you have the makings for the perfect surf trip. 
Stay in Corralejo, hire a car, keep an eye on the charts and do some research for where to surf and when to surf it. If you want to guarantee some waves and good times, You certainly won't regret a Fuerte trip Good luck, and thank me later!