Straddling both the northern and southern hemispheres, Ecuador in South America is in a prime position to receive swell year-round. With a coastline of over 2000km, tropical climate, low cost of living, and a whole heap of other cool things to do, it's no surprise Ecuador is one of the fastest-growing surf destinations out there. 
In this article, we dive into everything you need to know for surfing in Ecuador. From the best spots, where to stay, and how to get around. Despite its small size, there's a lot of surf knowledge to unpack from this South American gem, so let's get down to it. 
Best Time of Year to Surf in Ecuador
The best time of year to surf in Ecuador is between December and March. This is when the biggest swells come down from the northern hemisphere and hit the coast's best breaks. This is somewhat of an anomaly when it comes to other top South American surf destinations as most other nations' western coastlines work between April and October (the opposite season). 
Best Surf Spots in Ecuador 
Montanita is the main surf town in Ecuador and a great place to base yourself when chasing waves in the country. In town, you've got a long stretch of beginner-friendly beach break (one of the best beginner surf spots in Ecuador), with a fun right-hand point at the northern end of the same beach. While the beach break has good peaks for advanced surfers out the back, the inside is fantastic for beginners, providing rolling lines of whitewater across a flat beach. The point is fun, offering sections for turns and carves and even the odd tube section. Read more about surfing in Montanita. 
South of Montanita you have the Salinas area, where most of the nation's best waves are located. In Salinas, you have a range of different options, from the long lefts at Mompiche, which need a solid NW swell to start cranking, while a series of beach breaks, split up by a series of rock jetties can offer fun peaks and even some shore break tubes. I'll let you discover them for yourself though!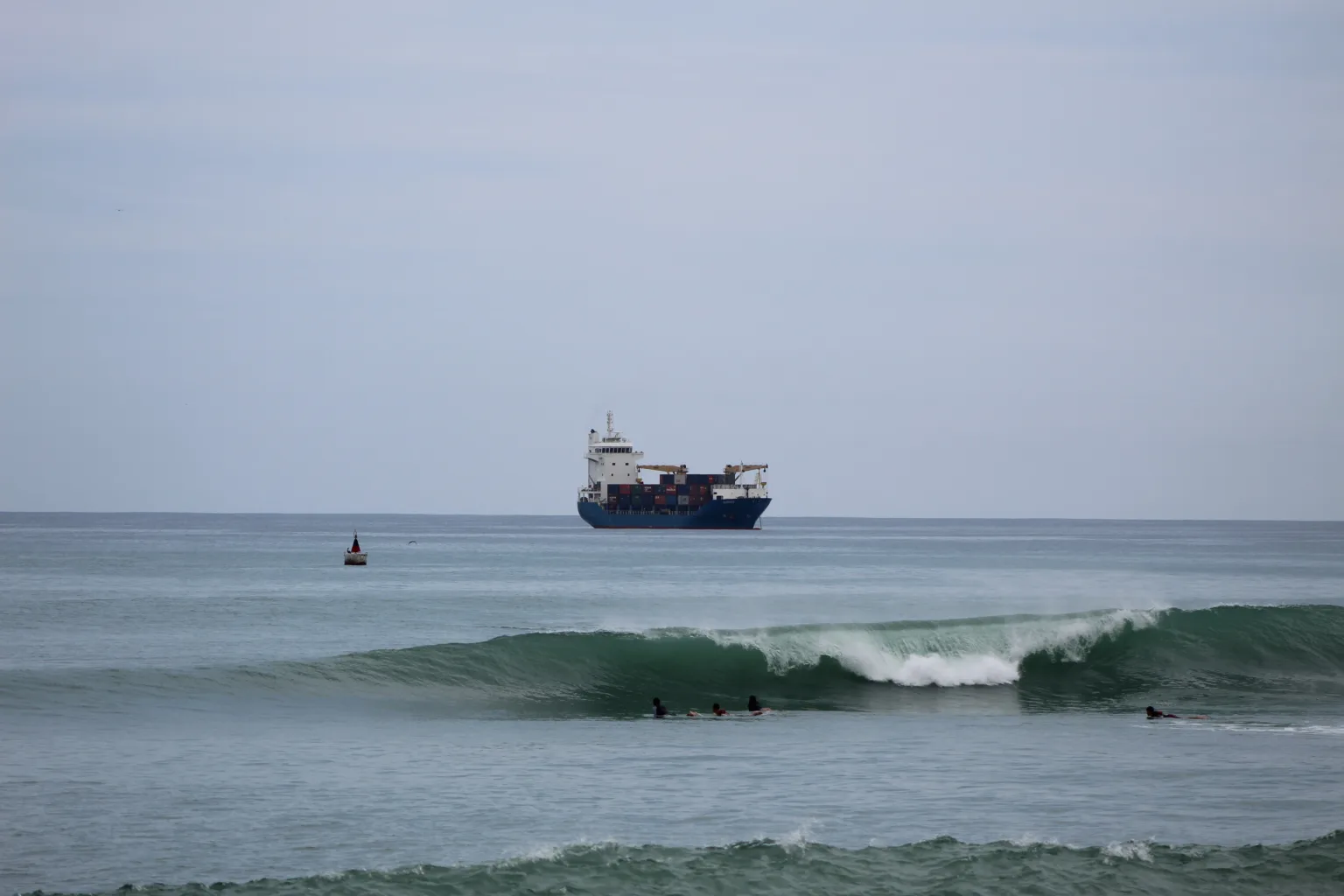 If you're done with the mainland and want to go and surf in one of the most interesting and sort after tourist spots on earth, then a trip to Galapagos could be on the cards. And while the Galapagos certainly isn't one of the world's cheapest surf destinations, the pristine series of islands has some unique wildlife and fun waves. Mostly in the form of powerful volcanic reef breaks, think of Hawaii or the Canary Islands for a geographical comparison.
Tongo Reef is a fun left on San Cristobal, that works during the southern hemisphere winter, whereas a number of the more premier breaks work in the northern hemisphere winter. read my complete guide to surfing in the Galapagos.  
Ecuador is sandwiched between Peru to the south and Colombia to the north. You can fly to Guayaquil or Quito–the capital. You can find relatively cheap flights to Ecuador from most cities in Central and North America. Check out Kayak flights for some of the cheapest places. Fly to Guayaquil to get the closest to the coast. 
Getting Around in Ecuador 
Getting around Ecuador is pretty straightforward. If you're on a budget, you'll want to take the bus. You can take buses between major airports and towns. For example, check out this route between Guayaquil Airport and Montanita. I always use BusBud or Rome2Rio to find the best and cheapest bus routes.  
If your budget can stretch to it, hire a car in Ecuador. Not only will this make getting out of the airport quick and easy, but give you maximum wave-chasing capability. Check out rental cars.com or Discover Cars for the cheapest hire car prices at Guayaquil Airport. 
Tips for Surfing in Ecuador 
The main spots in Ecuador are usually crowded and locals should always be respected. Like anywhere. For the most part, surfing in Ecuador is less localized and more enjoyable than in some of its neighboring Latino nations. 
In summer, the heat is frickin intense in Ecuador and full sun protection is needed outside of the dawn and evening glass-off sessions. 
While the summer is hot, Ecuador gets surprisingly chilly during winter. Thanks to the Humboldt current that comes up from the South Pacific, During June/Jul and August, the coast of often plagued with low-hanging grey mist, drizzle, and cooler water. Something to note if you're visiting during this time. 
If you're looking for a super cheap place to stay while surfing in Ecuador, Cayena Beach Hostel is located in the heart of Montanita, and you can find dorm rooms here for less than $10 per night. Check out Cayena Beach Hostel here. 
Another wicked, and affordable, surf hostel in the middle of Montanita. (The best surf town in the country). Again, here you can find rooms for less than $10 per night. Learn more about Iguana Hostel. 
Like all main surf towns across Latin America, there's a Selina in Montanita. Selina Montanita is a wicked spot for surfers and digital nomads offering dorms and privates, an on-site restaurant and a workspace. 
Punta Verde Ecological Rooms
If you're looking to escape the craziness of Montanita, stay up on the hill at Punta Verde. A great spot to stay with spacious rooms, workspace and best of all, you can see the right point from your window. Check out Punta Verde here. 
Non-surfing Activities in Ecuador 
Across Ecuador, there are some epic things to do. I mean, you're close to the Andes where you can tackle some insane volcano hikes. You've also got the city of Cuenca if you want to tap into some history or the Galapagos for an epic surf/wildlife adventure. 
Ecuador is one of the world's cheapest surf destinations and has something for everyone. From beginner-friendly beachies to reefs and barreling a-frames, no matter what your ability, you'll get waves here. For more information on surfing in Ecuador, please comment down below with any questions! I'd love to help you 🙂