For a country that has produced some of the best surfers to walk the planet, Brazil is often overlooked for traveling surfers. However, Rio De Janeiro is an excellent destination for a surf trip with consistent waves, a coastline rich with punchy user-friendly beach breaks, tropical temps year-round, and a tonne of epic non-surfing activities.  
While you won't score waves like the endless lefts of Peru or Chile, the Rio De Janeiro region has numerous surf setups, from thumping beach breaks and playful shoreys to slabs and CT venue Saquarema. Let's discover everything you need to know for surfing In Rio De Janeiro, from where to stay, where to surf, and how to experience this fascinating city. 
Best Time of Year to Surf in Rio
While there is no script best time of year for surfing in Rio De Janeiro, the city typically enjoys its largest swells during the southern hemisphere's winter, from April to October.
However, Rio has consistent swells year-round, and waves will be in the 2-4ft range daily. Check out what the waves are doing now in Rio with the Surfline Rio De Janeiro forecast or MSW Barra Da Tijuca.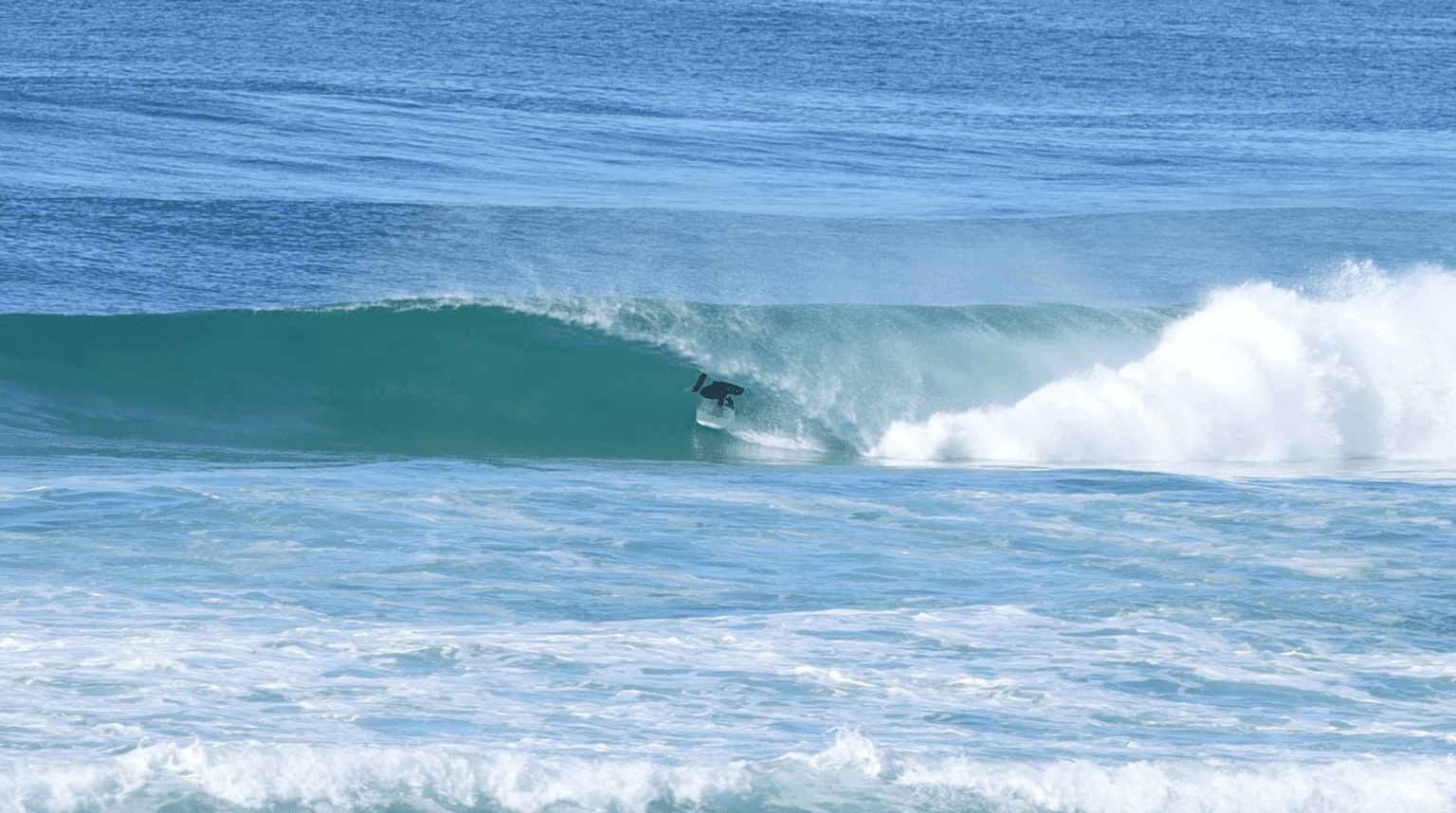 Best Surf Spots in Rio De Janeiro
There are hundreds of surf spots around Rio. From the former CT venue, Barra Da Tijuca, to the heaving shore break of Itacoatira, incredible waves are located in the city's heart. With such a wide array of waves, there is always something fun to ride for all abilities. Here are some of the best places to go surfing in Rio. 
Barra Da Tijuca is a mile-long ribbon of golden white sand, the quintessential Brazilian beach. We're talking bikini-clad women, beach volleyball, caipirinhas, sunny skies, football in the shore break… Oh, and the waves are also delightful.  
While Brazil might be known for being one of the worse stops on the WSL World Tour in terms of wave quality, if you're after 3-4ft punchy beach breaks, with a few barrels thrown in for good measure, Barra is for you.
Perched at the eastern end of the world-famous Ipanema beach, Arpoador is a mushy left-hand point with fun waves almost always. Situated conveniently to 7 million people, you'll be sharing with hundreds of others; seriously, the place is crazy crowded. 
But if you can snag a few waves, you can have a fun session. The left point, come beach break, is one of the most beautiful surf spots I've ever surfed. And I've been to my fair share. Huge high rises, the two brothers' rock and favela, are the backdrop while surfing at Arpoador. Oh, and you can also see Christ The Redeemer from the water. Not bad, huh? 
Further outside of RIO, a super consistent beach break with fun peaks. Grumari was used as the backup venue for the WCT event. A short drive outside of Rio, further west from Barra Da Tijuca. 
Thumping shore break beachie. Handles large swells and provides an opportunity for throaty sand-bottomed tubes. The waves are no joke here and pack a heavy punch. Annual bodyboarding and big wave events are held here. 
Around the headland from Itacoatiara is Shock, Brazil's answer to The Right. A horror slab breaking onto a dry outcrop of rock. Nearly impossible to ride due to savage backwash. For hard-charging maniacs only.  
Another slab breaking off the headland of Copacabana. A shallow, throaty barrel under a picturesque setting. Popular with local water photographers and bodyboarders. Advanced surfers only. 
Not known for its surfing, the world-famous Copocanaba can produce punchy, heavy shore break barrels. While bodysurfing and boogie boarding are the pick, surfing a soft top or shortboard is a great way to spend an afternoon getting close-out visions. 
Rio has many accommodations, from flea-pit backpacker hostels to high-end luxury resorts; there's everything. Rio is notoriously expensive for Brazil, even for visitors coming with favorable foreign currency. Here's a breakdown of some of Rio's best places to stay for surfing and exploring. 
A $16 per night hotel just back from the beach at Arpoador (Ipanema). While Social Hostel isn't the most budget of budget hostels, if you're looking for an excellent location, clean room, and affordable price, Social Hostel is ideal. 
Just 1km back from the beach, a super modern, sleek, and clean hostel with dorm beds costing $26 per night. Not cheap compared to other Latin American surf destinations, but for Rio, REF is excellent value. 
Selina is always an excellent bet for a good social scene, great Wi-Fi, clean rooms, and everything you need as a backpacker or traveling surfer. I've stayed in Selina's all over Latin America, and they never let me down. I didn't stay at Selina Copacabana, but I've heard it's just as good, if not better, than other properties. The view is insane as well!  
Radisson Barra Da Tijucca 
Radisson at Barra is a fantastic place to stay, a quality hotel right on the beach at Barra Da Tijuca. Sleek, minimalistic, and modern design makes for one of the more comfortable stays you can ave close to Barra. 
As you'd expect from Wyndham, this hotel has everything you could ever ask for in terms of luxury and comfort at Barra Da Tijuca. Right on the beach and one of the best places to stay in Rio. 
Royalty Barra Hotel is another high-end beachfront high-rise. Beautiful rooms overlooking Barra Da Tijuca and one of the best places to stay for surfing in Rio. True luxury and comfort from $100 per night.  
Book The Cheapest Surf Hostels in Rio
There are some super affordable surf hostels throughout Rio where you can stay for less than $20 per night. To book them, I always use Hostelworld or Booking.com
The weather is warm year-round and scorching in the summer. The sun is intense, and you'll be able to surf in boardies almost year-round, with a shorty being the go during winter. 
In a city home to almost 7 million people, the crowds are intense throughout Rio, especially in the more central, confined spots such as Arpoador. 
Don't be fooled by Rio's reputation for weak mushy waves. Many of the breaks in and around Rio pack a punch and can be surprisingly heavy! 
Surf Camp Packages in Rio
If you're looking for an immersive all-inclusive surf, stay, and coaching package in Rio, check out Book Surf Camps. 
If you or your partner is looking to learn how to surf in Rio, then you're in luck. By my observation, Rio is one of the best places to learn to surf on earth., With numerous playful beach breaks and mellow waves to choose from and an abundance of affordable urf schools. Here are some of the best places to learn surfing in Rio. 
Non-Surfing Activities In Rio  
No visit to Rio is complete without a visit to Cristo Redentor. The iconic statue and wonder of the world is spectacular. Just choose a  sunny day, as when I visited it was raining and somewhat ruined the experience. Spectacular nonetheless. The easiest way to get to Christ the Redeemer is by train, which you can book here. 
One of the best things I did in Rio; was a private walking tour through Rochina favela. The Favela is the largest in South America; learning about it from a local guide is incredible. My guide Daniel lived in the Favela for 30 years and still does today; fascinating insights into how people live here.
Another iconic rock formation, which you can take the cable car up. Fabulous views across Rio and an excellent way to spend a morning. 
One of the best things about Rio is the beach vibes; with perfect weather, people wearing next to nothing, footballs flying around, sipping cocktails, and playful shore break waves, the beach hangouts in Rio are world-class. They've genuinely got the lifestyle sorted here.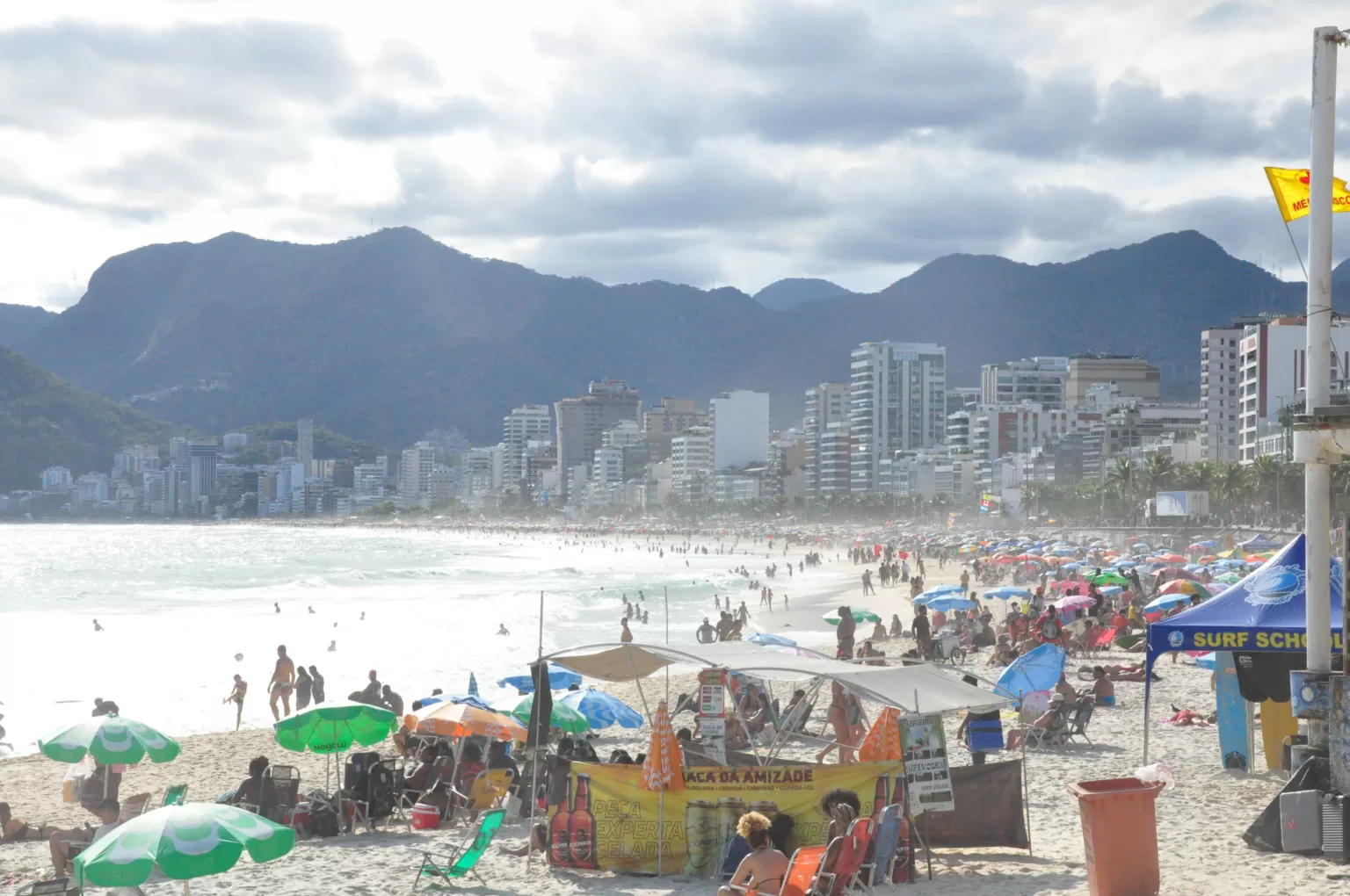 Brazil - Country Information
How To Get Around In Rio? 
Ubers are common and frequent throughout Brazil. They are cheap and generally reliable. However, if you're traveling with surfboards, be wary that not all cars are big enough to fit board bags, and you'll be turned away sometimes. Frustrating, but many drivers are happy to accommodate. 
Getting around Rio by bus is also super easy. There are local bus routes between all the city's central areas, and for longer journeys, check out Bus Bud for the cheapest fares. 
You can also hire a car to drive around while surfing in Rio. This is the most flexible way to score waves in the city, as there are distances between each spot. However, because of the traffic, driving in the city can be stressful and cause more of a headache than getting the bus or an Uber.
Surfing In Rio - Final Words 
Rio De Janeiro is one of Latin America's more expensive destinations destination, and if you're coming here purely to score pumping waves, you'll come away disappointed. But come here to surf, soak in the culture, and experience one of the greatest cities in the world; you have the ingredients for a fantastic surf trip. 
You'll surf every day, hang out at the beach and check out everything the city offers. Rio is a must-visit if you're traveling in Brazil or through Latin America, chasing waves, or sightseeing. To learn more about surfing in Rio, head to my Youtube channel and discover some in-depth insights into what surfing is like in the city.