It's tricky learning how to surf, and I feel your pain. I grew up miles from the nearest ocean and learned to surf in cold, windswept Cornwall. It's often a  painstakingly long process, a lifelong trial and error process of sorts resulting in more frustration and slow progress. Not to mention doing so in cold crappy waves…
However, learning how to surf doesn't have to be this way. If you're just getting started with surfing, there are many epic places around the globe, perfect for beginners. Places with perfect, small waves breaking in warm tropical waters under a beautiful natural setting.  But before we dive into the best spots, what makes the best beginner surf destinations? 
What Makes the Best Beginner Surf Destinations?
Waves are vital to any beginner surf trip. Duh!  You need to put yourself in the most accessible conditions, both forgiving enough to make it enjoyable and offering the chance to push your surfing to the next level. As a beginner, you want mellow lines of whitewater, and the opportunity to venture out back into unbroken waves. 
Many of the best beginner surf destinations have a solid surf infrastructure to make surfing easy. Places such as Bali, Hawaii, and Mexico are well-established and accommodating for beginner surfers. So always consider this before choosing a destination.
It's one of the beauties of surf travel, learning a new skill, meeting people, and embracing local culture. Always consider the cultural environment you want to be around, both in and out of the water. The overall vibe of a place can have a huge effect on your surfing enjoyment. 
No one wants to learn surfing in the cold; I'm looking at you, UK! Thankfully, many of the top beginner surf spots are located in tropical climates, where all you'll need are board shorts and sunscreen! That said, we can't all venture off the the other side of the world in search of the tropics, and wetsuits allow you to surf anywhere these days. 
While surfing is fun, your body will need solid rest and recovery after a week of surfing, trust me! A great beginner surf trip always combines surfing with epic non-surfing activities. In my opinion, the best beginner surf destinations all have a lot to offer out of the water, whether it's hiking, beaches, cool towns, or famous sights to see.  
The Best Beginner Surf Destinations on the Planet   
Sri Lanka has long been a favorite surf trip for beginners and budget surf trippers. A unique culture, tropical temps year-round, and warm, user-friendly spots award Sri Lanka the title of best beginner surf nation in the world.
You'll find several beginner-friendly spots, along the southern coast of Sri Lanka, from Hikkaduwa in the West to Arugam Bay in the East; Weligama is one of the best beginner spots in the country. 
Located just a few kilometers from, Midigama (a small wave-rich town for advanced surfers), the long crescent-shaped bay of Weligama offers optimal learning conditions. Fun, rolling whitewater 24/7!
Here you'll find any number of surf schools, camps, places to hire equipment, and get the right information for learning how to surf. Alternatively, you can head to Arugam Bay and surf Baby Point. Check out my full guide to surfing Arugam Bay. 
Ahh, Sayulita. A beautiful town located in Mexico's Riveria Nayarit, with a relaxed vibe and everything you could want from a beginner surf destination. Famous for hosting the Mexi Log Fest every year, Sayulita has earned its reputation as one of the better long-boarding waves in the world and is now a well-established surf destination.   
Sayulita is a 1-hour drive from Puerto Vallarta, meaning easy access from the international airport. The town has excellent accommodations, from backpacker hostels to luxury villas. The area has countless beginner-friendly and intermediate surf setups, so hire a moped, and go and explore.
In town, there is a long peeling lefthander and a shorter righthander breaking off the other side of the reef. The waves are typically small, long, and super fun! Discover more about surfing in Sayulita.
Nestled in the corner of a crescent-shaped bay, it's as if Baleal was designed for beginners. Baleal is a beach in the world-famous, Peniche, known for Supertubos, a thumping beach break providing some of the best tubes in Europe. This is the World Championship Tour site, where the top surfers in the world converge to compete for the Rip Curl Pro Portugal. 
But don't stress, there's more to Peniche than heavy beach breaks. Baleal is a long crescent-shaped beach with beginner-friendly waves in all conditions. in the corner (at the North end of the beach in front of the main car park) conditions are typically small and perfect for learning. 
As you walk down the beach, swells become progressively bigger as you reach the middle–where the swells hit directly. This means you can choose the size you want to surf! My friends over at Peniche Surf Lodge have a wicked hostel in town and will give you everything you need for scoring waves, no matter what your ability.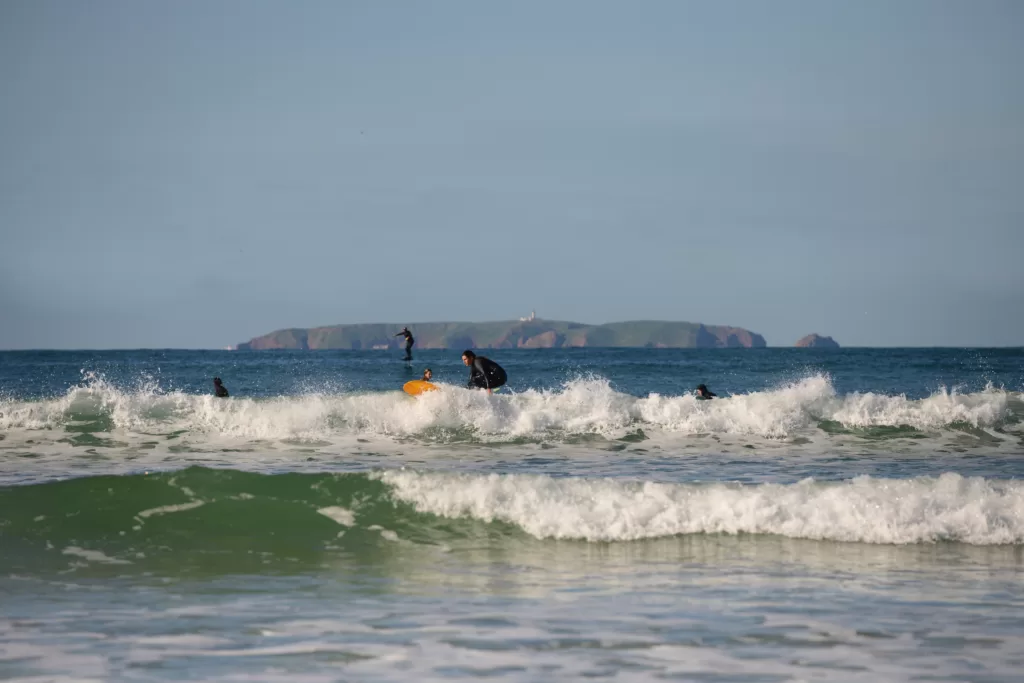 It's the sort of paradisical Australian coastline you dream about and a place that summons surfers from all over the globe. Coolangatta is world famous for hosting the planet's most perfect, longest, and (most crowded) wave–The Superbank. 
For beginners, Coolangatta also has excellent waves with countless beaches lining the coast. (Many with perfect learning conditions)! We're talking small, peeling green waves in clear turquoise waters, stunning white sands, and all the conveniences of modern city life. Check out Greenmount Beach, Kirra and Cabarita. 
5. Mt Maunganui, New Zealand 
On New Zealand's North coast, the Bay of Plenty region offers a perfect combination of weather, small waves, and less rain than most places in the country. White sand beaches and a beautiful natural environment provide an ideal setting for learning to surf in New Zealand. 
While Mt Maunagunui's waves can be frustratingly small for advanced surfers, as a beginner, the small forgiving waves at the foot of the Mount are ideal! Check out Main Beach directly under the mount or east toward Tay Street or Heart Street. Check out my friend's surf school House of Surf. 
I couldn't write a list of surf destinations without respecting where it all began. While you might have to compete with celebrities and hordes of Japanese tourists, Waikiki remains a fantastic place to learn surfing. 
Located in Oahu, Waikiki has small, perfectly lined-up waves on any given day. While the waves break over reef, the water is deep, and the wave is incredibly forgiving. Once you've filled your boots with surf lessons down south, head to the famous North Shore, one of the world's best surf destinations and home to the heaviest and scariest waves ever. 
Also known as the seven-mile miracle, the place is seven miles of pristine sands, palm trees, attractive beachgoers, and awe-inspiring waves. It's where the world's best converge every year to ride waves such as Pipeline and Waimea. 
Surfers have been gracing Bali's shores since the early 70s, with spots like Uluwatu putting the region on the map. Kuta is the main town in Bali where many choose to stay. However, Kuta has become overrun with young Aussies tearing around on mopeds and Bintang sipping ex-pats and isn't the most pleasant place to stay in Bali. 
That said, the waves of Kuta beach are still perfect for learning, with slow-rolling whitewater and countless beach stalls for lessons and hire equipment. If you're looking for somewhere tropical to stroll onto the beach whenever you want, grab a board or take a lesson, Kuta is the place. 
Kuta is just outside Bali's main airport Ngurah Rai. While you could stay slap bang in the middle of the action in Kuta, Bali's surrounding suburbs have much better accommodation options, from hostels to villas and everything in between; check out Uluwatu, Seminyak, and Canggu. 
For a place that combines climate, affordability, party scene and beginner friendly waves, you'll be hard pushed to find anywhere better than Montanita. Ecuador is one of the world's cheapest surf destinations, and this town has a long stretch of beach with long line of whitewater–perfect for learning. 
There are countless surf schools and places to hire equipment on the beach, and the town is filled with hostels, camps, and hotels for all budgets. Whether you're looking for somewhere to try surfing, improve or hang out as part of a larger South America surf trip, I'd highly recommend Montanita. 
I know, I know; I said at the start of this post, England was cold and windswept, which is a tad unfair. During summer, when temps creep up and the sun shows its head, Cornwall is a fantastic place for beginner surfers.  
The beaches of Cornwall are stunning; white sand, blue water, and jagged green cliffs make for one of the most picturesque settings in the country. Most of there time, the waves are mellow and forgiving, and there are countless surf schools and the main beaches. 
I'd highly recommend checking out St Ives (my Hometown) and surfing Porthmeor. Go and see Harris and the gang at St Ives Surf School; they'll give you all the coaching and equipment advice you could ever need from surfing in St Ives. 
10. Santa Teresa, Costa Rica
Santa Teresa in NW Costa Rica is a thriving backpacker-come-surf -town. It also happens to be one of the best beginner surf spots in Costa Rica (and the world), with stunning white sand beaches backed by a tropical green jungle, Santa Teresa is one of the best places to surf in Costa Rica. 
For a beginner, most beaches are ideal, with peaks for advanced surfers out the back and forgiving rolling whitewater on the inside. There are countless surf schools and shops to hire boards, and you'll be in boardies under the tropical Costa Rican sun. What's not to love? Read my full breakdown on surfing in Santa Teresa here. 
Nicaragua is one of the most wave-rich nations in the world. With epic waves for all abilities, and a low cost of living, you can't beat it, especially coming from North America. 
The town of Popoyo is the home of surfing in Nicaragua; a collection of dusty streets, accommodations, restaurants, and dozens of epic surf breaks. Check out Beginner Bay (one of the best beginner surf spots in Nicaragua) and Playa Santana for some mellow whietwater waves and for more info on where to stay, check out my full guide to surfing in Popoyo. 
There are so many epic places to learn how to surf in the world, and I hope this guide has helped make choosing one easier. if you need any more help finding the right beginner surf destination for you, please comment below and I'd love to help make your first surf trip unforgettable. Yew!