Being an intermediate is a tricky place to be as a surfer. You've experienced the rapid progression that gets you hooked and you're fully addicted to surfing. But while getting out surfing at every chance you get and ditching the 8ft foamie is great, achieving the advanced surfer title, is a whole new challenge. 
As an intermediate, you're trying to perform more advanced maneuvers, get used to shorter equipment, and enter lineups for the first time. There are just so many new experiences and challenges all happening at the same time. 
But being an Intermediate is also super exciting, you're at the point where you want to travel to new destinations, surf new waves, and become a "proper" surfer. Be careful though, surf travel has a way of taking over your life. In this article, we dive into the best intermediate surf destinations. But first, let's find out what an Intermediate surfer is and what makes a great intermediate surf spot. 
What is an intermediate Surfer? 
Everyone's definition of an intermediate surfer is different, but for me, an intermediate surfer is someone who can paddle out at a variety of surf spots, be able to identify for themselves where the best waves are breaking, and ride waves both left and right comfortably. 
As an intermediate, you may also start to perform basic maneuvers such as cutbacks, floaters, and re-entries. And at the upper end of the intermediate bracket, is about stepping down onto a smaller board so you can start learning more advanced moves. 
What Makes a Good Intermediate Surf Destination? 
I think as an Intermediate, you want something that offers a bit of everything! For instance, the chance to surf both left and right–something predictable. So usually a reef break or point, where waves are breaking, in the same way, every time. 
This gives you the chance to practice something over and over again as the wave is breaking in the same way. At the same time, you then have to learn about the surfing lineup. So all the destinations that we're going to talk about today, include a good variety of breaks that offer everything. 
If you're at the lower end of the Intermediate surfing spectrum, you might want somewhere where you can retreat to the whitewater, so it's good to have a beach break on hand. For instance, if the waves get really big and you don't feel confident you can just practice your pop-up in the whitewater. 
On the other hand, if you're trying to push out from the intermediate level and start pushing yourself into the advanced category. By surfing bigger, more challenging waves, you're going to want something with more juice. 
The vibe of the place is also important for intermediates. This is tricky because, as an intermediate, you're making your way into more complex surfing lineups–mixing with more advanced surfers, at various point breaks and reefs. 
This is where I see the most conflict in line-ups where intermediates get in the way or have accidentally dropped in on a more advanced surfer, not on purpose but just because they haven't necessarily developed that surfing line-up awareness yet, which always just takes time, and something you only learn through time in the water at all these different spots.  
There's nothing worse than getting screamed at by an angry local when you already feel out of your depth and you're trying to push yourself. So pick places that attract the sort of surfers in the same boat as you. 
Equipment & Coaching Accessibility
Having great equipment is obviously a critical part of your Intemefaite surf experience. You might not have your own board yet, or you're ready to ditch that foamie. But whatever, you need to have great equipment. 
As discussed at the start of this video, I think unless you can do all of these things (catching your own waves, trimming left and right, and being able to read basic surfing lineups). You don't need to progress down to a shorter board too early, as you can do most of these things on a foamie! Also, this will depend if you're planning to travel with a surfboard bag, otherwise, you're relying on rentals, which isn't ideal! 
In addition, getting some great coaching as an intermediate can help fast-track your progress. And while I'd recommend getting in the water as much as possible regardless, any surf knowledge you can tap into is a positive. 
Personally, I've spent hundreds and thousands of dollars getting better at surfing, or at least trying to! So it's good to have some more advanced coaches and camps that facilitate this in your intermediate surf destination. 
The Best Intermediate Surf Destinations 
Sri Lanka is a dream Intermediate destination because not only does it have great spot variety, but offers generally mellow waves. The premier breaks walk the line between high-end intermediate and low-end advanced spots. Between the more premier breaks in the country, there are also countless anonymous easy-to-surf spots, with not many guys out. 
The swells in Sri Lanka, come from a long way away and then the same swells have to bend and wrap into the various bays and reefs where the spots are located. This means the waves get diluted and lose a lot of their power, as the storms aren't pulsing close to the coast, like say Hawaii or West Aus. You've also got a tropical climate, friendly locals, tasty food, and a super low cost of living (insert budget trip card), so all these things add up to make for a pretty epic intermediate spot. 
On the east coast (April – October) you've got the long right walls of Arugam Bay, which is a super fun wave, even for advanced surfers, but on smaller days is a pretty mellow and wicked spot to introduce yourself to something slightly more serious, without it being too gnarly or scary! 
Elsewhere you've got the beach town of Midigama where you've got a couple of a-frame peaks in Coconuts and Plantations. Just cross the channel, and you've got Rams Right, which is a hollow right barrel, more of an advanced surfer's spot, but if you're looking to get barreled for the first time, Rams is pretty mellow as far as a reef break slab goes. 
The Maldives are well established as a world-class surf destination and have any number of perfect waves. While the Maldives are excellent for advanced surfers, many of the spots throughout the islands break with that beautiful predictability and perfectness as some of the world's best surf destinations, such as the Mentawais or Fiji, but minus the full power and intimidating nature. 

There are so many different waves in the Maldives, both rights and lefts of all shapes and sizes. From Cokes to Lohis, Chickens, and Pasta Point, there are some seriously fun waves on offer here. 
Unfortunately, some of the waves are privatized and you can't surf them unless you stay at a designated camp that somehow owns the rights to something that occurs naturally. 
There are some waves you can surf, regardless of where you stay, the waters are warm, the ocean is crystal clear… coral reefs, palms, sunny skies. I mean common, it's the Maldives–postcard vibes! That said, you do have shallow coral reefs and you will need a boat to get to some of the breaks.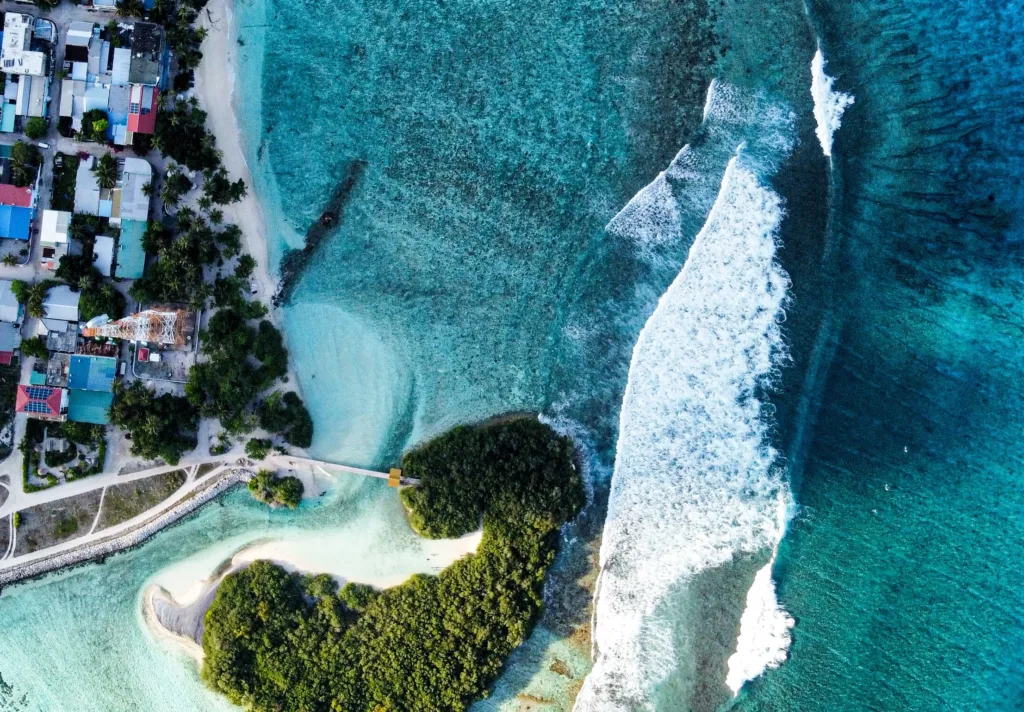 Portugal is an epic surf destination for any ability. There are just so many waves it's insane, from big wave spots like Nazare to world-class barreling ones like Coxos in Ericeira and Supertubos in Peniche. But heavy freight train barrels aside, there are some epic spots to check out as an intermediate. 
Check out Baleal in Peniche, for a fun beach break with lefts and rights, it's always changing here, due to the sandbank. But you can basically pick the size you want to surf because of how the swell hits the middle of the beach and gets progressively smaller the further you move into the corner. 
Closer to Lisbon, you've got Costa Caparica–a series of beach break peaks between rock jetties, there can be so many different waves within this that it can give you something fun and not scary as an intermediate. 
As long as the swell isn't huge, check out Ericeria, one of the most popular surf towns in Europe, and Portugal's best intermediate surf spot; Ribeira D'llhas. A fat, right-hand point that's long, and when it's small, still offers long rights, without the intimidating power and localism common at other breaks in the area. There are also a number of other breaks in and around town offering something for intermediates. 
In all major surf towns across Portugal you've got a heap of places to stay, if you're traveling solo or on a budget, check out Peniche Surf Lodge in Peniche, Selina in Peniche, and Ericeira. I always use Hostelworld or Booking.com to find the best and cheapest stays.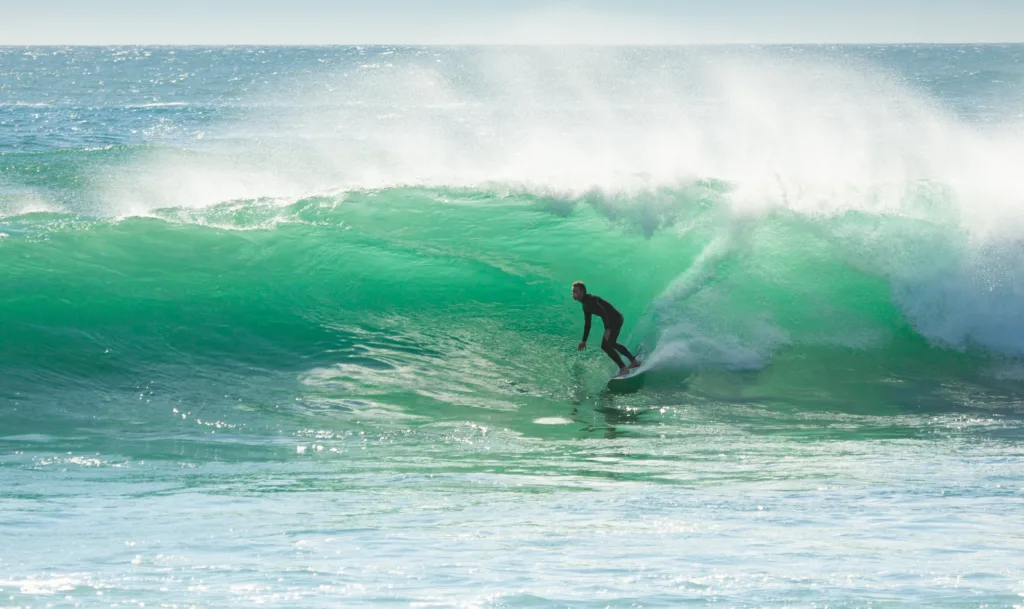 Next up we've got Morocco! Morocco in Northwest Africa is home to countless right-hand points, beaches, and various other breaks across the coast. Check out Anchor Point, a wave that's epic for both advanced surfers and for the upper end of the intermediate level. You've got some more powerful breaks in the area, but also some more sheltered ones. I think for the variety and generally mellowish right points, it's a great place to introduce yourself to some real point breaks and proper surfing lineups. 
While there are many wicked surf towns in Morocco, Tagazhout is the main one, this is where Anchors is and where most quality waves are focused in and around. Alternatively, you've got  Immasoune and Agadir, both with really fun waves. Check out some of these surf camps in the area… Or if you'd prefer your surf camp as part of a package, check out the best surf camp packages here. 
Noosa is an absolute dream destination and its fairly mellow right-hand points are an idyllic setting for surfing pointbreaks for the first time. In Noosa, you've got Noosa National Park where the famous Noosa points are. You've got the main point at the start as the smallest and most mellow, then Johnsons, and Boling pot, all waves that when they swells up are stupidly long. I don't wanna brag too much but I somehow got a wave all the way down from the top to the main beach, which was sick, but then the rest of the time I was paddling against the current in the busiest lineup I have ever seen! 
Around the headland you then have Tea Tree Bay a dreamy right-hand double-up point that gets really good, and then finally Granites. On small days all of these places are dreamy right points epic for mal riding or longboarding. Whereas on big cyclone swells, they turn into super long, sand-churning endless points, all insanely crowded but a place where you can surf the longest wave of your life!  
Indonesia! It's no secret the waves of Indonesia, across some of its 17,000 islands, there are so many world-class waves, too many to surf in one lifetime. The archipelago is in a prime position to receive those long-period Indian Ocean swells and bend them around perfectly shaped coral reefs. 
There's everything you want to surf here, and as an Intermediate I'd check out Old Mans and Eco Beach in Bali, a few of the spots in and around Kuta Lombok. There are so many spots that would be epic for Intermediates. While Bali has become more expensive and crowded nowadays, the rest of Indon remains pretty cheap and if you're willing to get off the beaten track, you can score waves with minimal crowds.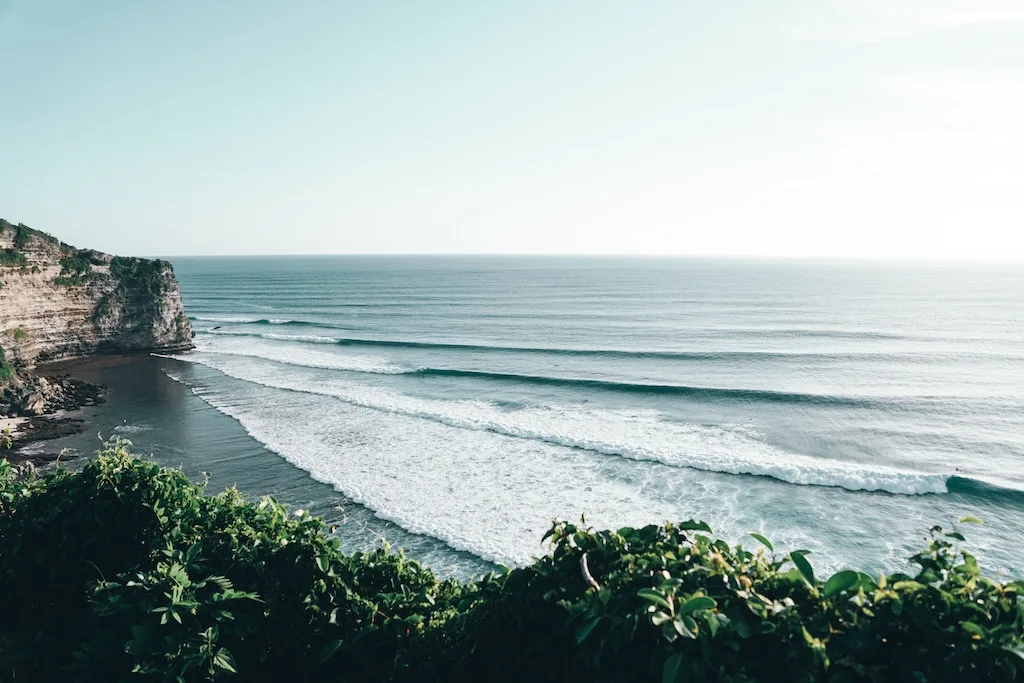 Costa Rica is an awesome place to improve your surfing as an Intermediate. Places like Santa Teresa, and Dominical, have fun but relatively mellow and weak beach breaks, which while I know I keep going on about needing predictable reef breaks as an intermediate, but its also super important to be able to read bea h breaks well, and be able to get waves when it's a little more shifty and unpredictable dn where better to do that than a warm, mellow, sunny beach break nest to the Costa Rican jungle?

Costa Rica is pretty expensive and not the cheapest surf destination you'll ever visit, but that said if you can use some budget tips on your trip, you can still visit the place without breaking the bank. Check out Hosteworld and Booking.com for the cheapest stays throughout the country. For more information on these Costa Rican surf spots, check out the complete guide to surfing in Costa Rica. 
Want to get better at surfing? Video analysis is the best way to fast track your surfing progression, highlighting mistakes and a clear pathway for improvement. Check out my online surf coaching service and have your surf clips broken down today. I can't wait to help you improve your surfing!! 
So that concludes our breakdown of the best intermediate surf spots on Earth. I hope you've enjoyed the video, please let me know of any questions you have regarding any of these spots, as well as any Intermediate surfing tips.