It's just one of those places. The stuff of dreams for surfers, whatever your ability, you can't beat surfing perfect tropical pointbreaks, then come in to drink a Cerveza, eat your body weight in Tacos, pass out and wake up to do it all again tomorrow–all part of the daily routine in this tropical surf paradise. 
Mexico is a massive country with countless world-class waves, hot weather, epic culture, people and transport options to make your trip easy! But with so many great surf spots to choose from, choosing the best place to surf in Mexico leaves you lost in blog posts and iPhone notes pages. Thankfully, this post makes things simple again. Here's everything you need to know about surfing in Mexico. 
When is the Best Time to Surf in Mexico?
The Mexican surfing season in Mexico is April – October. This is when the largest swells from the South Pacific reach the coast and light up Mexico's best spots. While you can find plenty of waves outside this season, it is the best and most reliable time to visit. Please note this time of year is also hurricane season on Mexico's pacific coast. So be aware of hurricane forecasts when travelling around the west coast. 
The Best Surf Spots in Mexico
If you're time-poor but cash-rich, I'd recommended choosing one spot and getting to know it more intimately. Whereas if you try and "tick off" heaps of spots at once, you'll spend more time travelling than surfing. Mexico is frickin' massive! Picking one area allows you to get more waves, meet the local people, and get a feel for a place. Because Mexico is so huge, I've broken down the best spots by region.
Surfing in Oaxaca is the quintessential Mexican surf experience, the waves you dream about.  Those perfect right points breaking lushly over sand and that dreamy blue-green hue. Or, if you're seeking something more adrenaline-inducing, Oaxaca is where most of Mexico's thumping beach breaks are, places to score the wave of your life. Oaxaca is also fantastic for a beginner, with countless spots providing the perfect environment for learning how to surf.
Barra de La Cruz is one of the best waves in the world, let alone Mexico. A dreamy righthand point with punchy walls for turns and barrel sections aplenty. As an advanced surfer, you're unlikely to find anything more enjoyable anywhere in the world. This must-do Mexican surf trip destination is a small town with only basic accommodations and sandy streets, and you only come here for the wave—surfing and nothing else. Read my full breakdown on surfing in Barra De La Cruz to learn more about the town. 
Puerto Escondido needs no introduction. A notorious wave drawing big wave riders from around the globe each season. Playa Zicatela is one of the heaviest waves in the world. A thumping beach break, thick lips and wide tubes. A wave that breaks boards and egos in equal measure.  
However, there is more to surfing in Puerto Escondido than terrifying beach breaks; the town is a thriving backpacker town with a lively party vibe and plenty of opportunities to party, if that's your thing. There are also some epic beginner-friendly spots in the vicinity. Read the full breakdown of surfing in Puerto Escondido to discover more. 
Selina Cruz is an area that put surfing in southern Mexico on the map. Famed for its beautiful green walls and perfect pointbreaks caressing shallow sand banks. You've seen the pics, right? And yes, I'm drooling as I write this. Selina Cruz is a series of five perfect point breaks, all offering their spin on the right-hand point break, varying in user-friendliness. 
Unfortunately, the breaks here are "privatised," meaning you can't surf unless you stay at one of the Selina Cruz camps. While there's nothing to stop you from walking out to the points yourself, good luck if one of the guides catches you. Trust me; I've tried! You can read more about my Selina Cruz experience in my upcoming book, The Latin American Surf Tales. Stay tuned!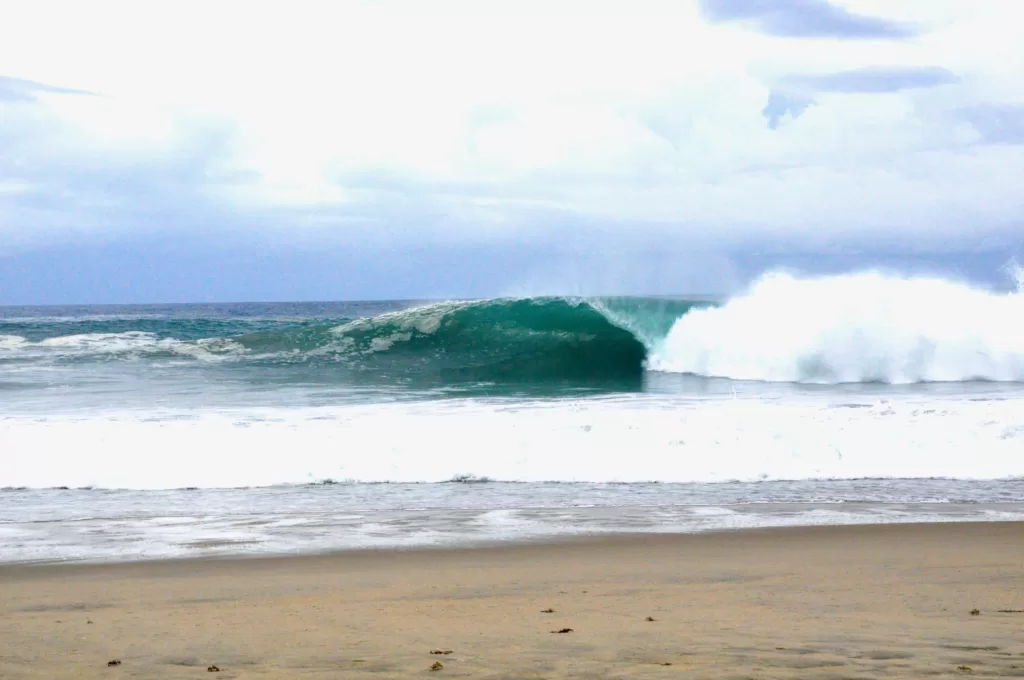 The Baja peninsular has long been known for epic waves, with surfers commuting from California to sample its world-class waves for decades. Baja has waves of all types, from forgiving beachies to long perfect points. The lad here is remote and barren, and the further south you go, the more you dip your toes into pure Mexican surf adventure territory. 
At the southern tip of Baja lies Cabo San Lucas, a thriving tourist town with several excellent waves in proximity; you'll find every type of accommodation, from backpacker hostels to luxury villas. There are several reef breaks, right points and A-frames, all within minutes of the town centre. 
If you're looking to get off the beaten track, Scorpion Bay is the pinnacle of the Mexi-surf adventure. Located in the middle of nowhere, Scorpion Bay is why you come to Baja, a dreamy right-hand point breaking forever, and if you time it well, you might get it to yourself. That said, this area is super remote, so you'll need all your provisions and the ability to embrace the back-to-basics budget surf trip. 
Best Surf Spots in Nayarit 
Nayarit is known for its beginner-friendly surf spots and relaxed pace of living. If heavy beach breaks and crowded points don't tickle your fancy, Nayarit is for you. Nayarit doesn't receive the brunt of swells like down south further south, meaning even on the largest swells; the waves are mellow and forgiving here. 
Sayulita is the centre of surf action in Nayarit. Known for hosting the Mexi log fest, the hip town has grown into a thriving backpacker and digital nomad town with everything you could ever want from a laid-back surf trip destination. 
There are several wicked bars, eateries and coffee spots in town for refreshing and refuelling. With a relaxed but upbeat atmosphere, the beachfront has Mexican brass bands playing on the sand, and waited-on parasol areas make for a fabulous beach experience. The waves are mellow, with the main break in town offering a long left and short fat right. Fantastic for longboarders and learners. 
To learn more, check out the full breakdown of surfing in Sayulita. 
Best Surf Spots in Colima 
While Colima is known as one of the sketchier areas for safety, the area also showcases one of Mexico's most intimidating and powerful waves. This small Mexican state has a handful of waves, and most of the action is focused on Pascuales.
The black sands of Pascueles are famous for it's heaving barrels which can handle any size and swell, meaning it never gets too big; the bigger the swell, the wider the barrel—a long stretch of beach with a handful of accommodation options at the beachfront. You only need to Google the place to see what it's capable of. In front of the wave are several accommodation options, but there isn't much here; you come for one thing only, to get barreled.
Best Surf Spots in Guerrero
South of Colima is Guerrero, one of the lesser-known Mexican states for surfing, but that's not to say it doesn't have waves. While I'll leave you to explore most of the region, there are a few notable areas to consider. 
La Saladita, an isolated surf spot, is located among the thick Mexican jungle. If you're ready to get off the beaten track, live simply and focus entirely on surfing is heaven. The endlessly long left is perfect for mals and longboard, a wave that peels forever; need I say more? 
Acapulco, a major tourist town popular with Americans seeking, among other things, the cheap sun, is not known for world-class surf. The place remains off the radar for the travelling surfer. However, Acapulco is capable of excellent surf. On the right day, the beach breaks surrounding the city can contend with Mexico's best waves, with throaty barrels and beach break peaks. There are also some of the best accommodation options in terms of affordable luxury on the west coast.
Best Surf Spots in Michoacan 
A small, isolated surf "town" isn't so much a surf town but a series of sandy streets directly in front of a pumping left-hander. The wave at Nexpa is a river mouth break offering long wally lefts finishing on a rocky black sand shore break. The wave is powerful and perfect for intermediate to advanced surfers looking for something less crowded than the more famous surf spots further south in Mexico.
Surfing in Mexico - Spot Map 
So what does a surfing map of Mexico look like? Here's a basic overview of the main spots. 
The Best Beginner Surf Spots in Mexico
While Mexico is great for surfers of all abilities, it has some of the world's best beginner surf destinations. However, you must choose the right places. Although Puerto Escondido is renowned for its harrowing beach breaks, several excellent beginner-friendly spots are nearby. Further north, Sayulita is one of Mexico's best spots to learn surfing and enjoy some proper Mexican beach vibes.
Tips for Surfing in Mexico 
You can't ignore Mexico's reputation for danger. Let's face it; the country has shocking crime statistics to make even the most seasoned surf travellers stop and take note. However, the beach towns hosting Mexico's best spots aren't as dangerous as you'd think. You must still be cautious, especially at nighttime, as robberies, pickpocketing, and armed thefts ais common even in smaller towns. 
If you're passing through larger cities, avoid walking alone at night and ask hotel staff for safety information. Gang violence and drug crime are rampant in most large cities. Generally, you don't see this side of the country, but just be careful and vigilant. 
Getting around Mexico is super easy. If you're tight on time, hire a car and drive around. The roads are good throughout Mexico, and driving on the Mex 200 highway is straightforward. If you're on a budget surf trip, then use the bus. The overnight bus system is excellent in Mexico, and you can take comfortable, air-conditioned buses between most major cities. Costs vary, but tickets are usually $20-30 for 10-12 hour journeys. I use Busbud for bus routes, so check out the Mexican bus routes here. 
If you're a surfing digital nomad, Mexico is a fantastic destination. Most large cities and surf towns have decent internet, and you'll have a strong enough connection for a zoom meeting at most accommodations and cafes. However, in smaller towns, wifi is notoriously bad, especially in southern Mexico. For example, the connection in Barra De La Cruz is almost non-existent, and while much better, Puerto Escondido experiences frequent connection drops. 
Some basic Spanish will go a long way in Mexico! Although staff at more upmarket hotels and camps will speak fluent English, many locals won't. When taking local buses and taxis, being able to ask where things are and negotiate price is super handy. Buy a Spanish phrase book or write a page of phrases to keep in your pocket; you'll be surprised how helpful this is. 
Like most surf decisions, there is localism at many spots in Mexico. Wherever you're surfing, always respect the locals and let them get their waves first. This should go without saying; usually, the locals are easy to identify. 
Food is excellent and super affordable throughout Mexico. You can't beat a plate of $2 Tacos washed down with a Pacifico beer after a day surfing. If, like me, you can't handle spicy food; it's worth noting the word "Picante". This means spicy in Spanish, which you can use to make clear you don't like it.
Travel Essentials for Surfing in Mexico 
Because of the variety of waves in Mexico, the surf equipment you'll bring will depend on what you like to surf. I'd take a performance shortboard, a step up and, if you prefer mellow waves, a longboard or a mal. The water is tropical no matter what time of year you visit, and you'll need sunscreen, boardies/bikini, warm water wax and maybe a rash vest for those mid-afternoon sessions. 
Because you'll be surfing so much, I'd also recommend taking spare leg ropes, fins and a ding repair kit, as in the more remote surf towns, this stuff is tricky to find. Best to be prepared and ensure you have anything you need to stay in the water.
Final Words on Surfing in Mexico 
Every surfer needs to visit Mexico; it's just one of those countries. As if it was designed for the travelling surfer. No matter your ability, there is every type of wave throughout Mexico, all tropical water and a super affordable cost of living. Go surfing in Mexico, and you won't regret it! If you've been to Mexico and would like to share some more info, let me know below! If you have any questions regarding your trip, please reach out.