Sri Lanka is one of the dreamiest places on Earth, promising spoils of tropical waters, welcoming locals, excellent cuisine, landscapes, and a low cost of living, the tear-drop nation has a lot to offer. Oh, and the waves aren't bad either… Here's a complete rundown of surfing in Sri Lanka. 
Sri Lanka's best surf season depends on the coastline. On the East Coast (Arugam Bay), the season is from April to October. Whereas for the south coast breaks (Weligama and Hikkaduwa) is best between October and April. With January to March taking the cake for consistency and good winds. 
Best Surf Spots in Sri Lanka 
All over the southern arching coastline of Sri Lanka are fun surf spots. From the right points to a-frame reefs, beginner bays, and everything in between, Sri Lanka offers something for everyone, whether it's your first surf trip or you're already a seasoned surf venturer. 
Arugam Bay hosts the best waves in Sri Lanka. I've been to Sri Lanka twice and always scored the best waves on the East Coast. Arugam is a thriving surf town famous for Main Point and several other fun right-hand points. Main Point is an excellent wave for intermediate and advanced surfers, breaking for hundreds of meters around the headland over a flat reef. The wave is fun, wally, and even has the odd tube section on its day. Around the coast, there are several other epic little setups, but I'll let you explore them yourself. Check out my full guide for more information on surfing Arugam Bay. 
Perched on the Southern Coast of Sri Lanka, Midigama is another Sri Lankan surf destination with spots for all abilities. This short stretch of coast packs countless different waves within a few hundred meters From the fun reef/beach-break peaks of Plantations and Coconuts to Rams–the best surf spot in Midigama.
Rams is a fun, but shallow right-hander with tubes under the right conditions and tides. Lazy Left in Midigama is a fun intermediate wave, and as the name suggests is a fun easy wave to surf and an excellent introduction to point break style waves. 
Next to Midigama lies Weligama, a long beginner-friendly bay and the perfect setting for learning to surf. With surf schools and hire shops plenty, you can rent boards here for $5 per hour. Then you've got Mirissia, a stunning golden sand beach, with a fun shore-break (epic for bodysurfing after an afternoon cocktail, and a right point at the western end.
For more info, check out my full guide to surfing in Midigama.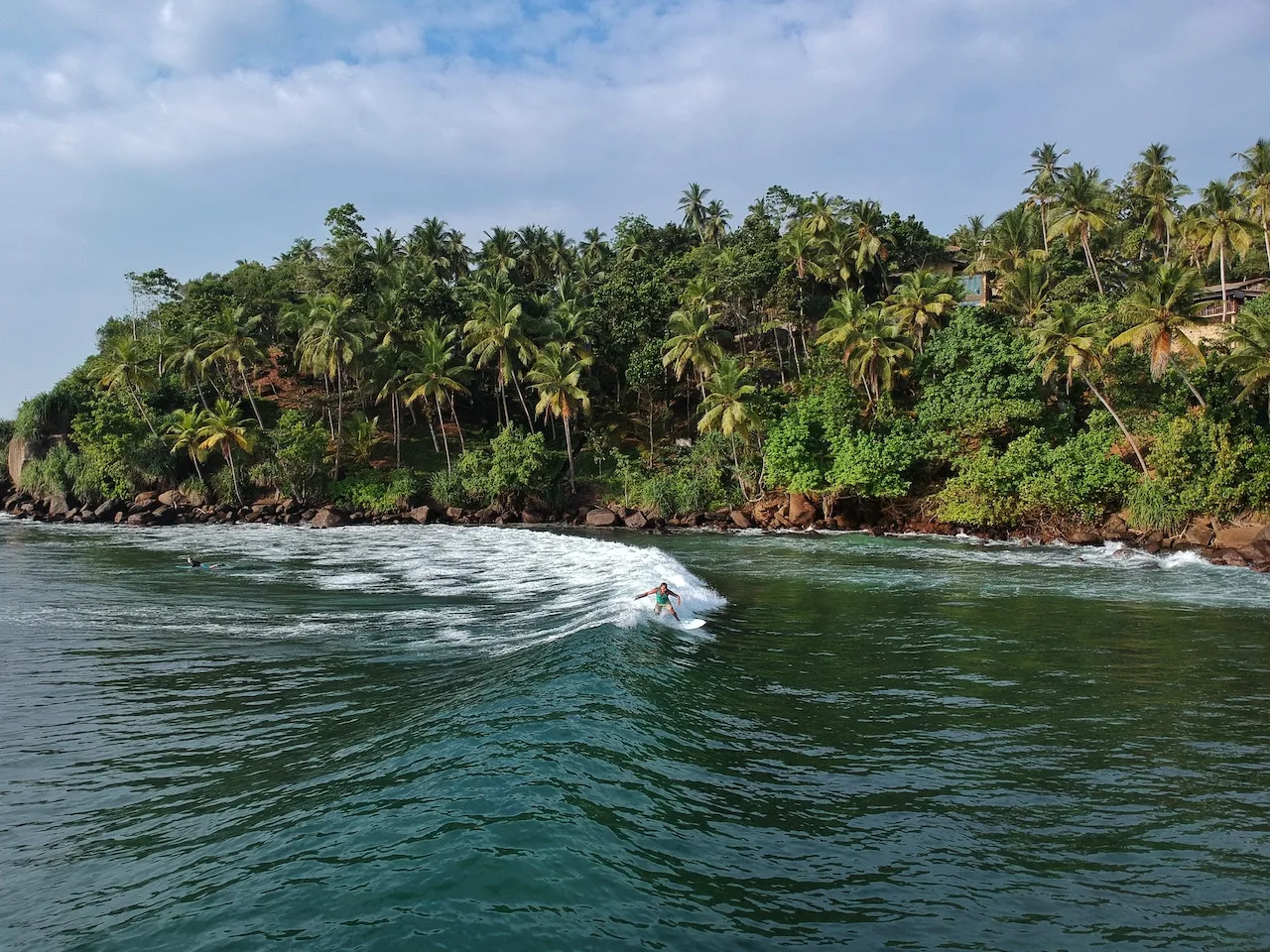 Hikkaduwa is Sri Lanka's largest surf town, which like Midigama, boasts countless surf spots. The stretch of coast surrounding Hikkaduwa is home to a variety of reef breaks and beachies, most notably, the Peak, a powerful A-frame breaking over reef. Just next to it is a fun beach break, which although prone to closeouts, can have barrels on the right day. There is also a long left, closer to town. 
You can find flights from many major cities to Colombo the capital. This is where all surf trips to Sri Lanka begin. If you're in Asia, (for example Bali or SE Asia) you can find affordable flights with Air Asia (just check baggage policies first). Or check out Sri Lankan Airways for flights with free boards and checked baggage. 
From further afield, tickets are going to be pretty expensive and will be by far your biggest expense when visiting Sri Lanka. Before booking any cheap flights to Sri Lanka, check out my surfboard baggage guide to make sure you're not paying over the odds for your boards! 
You have several options for getting around in Sri Lanka. The best will depend on 1. How much time do you have and 2. Your budget. 
You can hire a car at Colombo airport. (Check out Discover Cars for the best rates). Having a car will mean you can have the maximum amount of freedom for chasing waves and finding less crowded surf spots. Please note, the roads are HECTIC in Sri Lanka and you should only rent a car if you are comfortable/experienced on such roads. The traffic is heavy, the bus drivers are gnarly and Tuk Tuks are everywhere. Oh, and don't even get me started on the overtaking. 
If you are visiting the south coast surf towns (Midigama and Hikkaduwa) taking the train is a super affordable way to get around. For just a couple bucks you can take a train from Colombo to Hikkaduwa! While train tickets are cheap, they are also crowded, and hot, and taking a board bag on can be…interesting. A memorable experience, however. 
Another budget surf trip favorite is the bus. If you're on a super tight budget, taking the bus around Sri Lanka is great. While, like the train, it's crazy crowded, sweaty, and drivers are maniacs, it will cost next to nothing. 
Private taxi transfers are in my opinion the best way to get around in Sri Lanka, especially if you're traveling with boards. If you're heading to Arugam Bay, it's an 8-hour drive across the country, and the trains don't go to that part of the East Coast. For instance, the taxi transfer to Arugam typically costs around $100-150, whereas the South Coast transfers are around $50-100. The best and easiest way to get around. Oh, best of all, you'll be comfortable. 
In all the major Sri Lankan surf towns, you'll have accommodation options for all budgets. Here are some of my top picks from around the country. I always use Hostelworld to find the cheapest surf hostels, as I always find they have the cheapest option. Whereas for private rooms, and something a little more upmarket, I use Booking.com which is epic as you get free cancellation if your plans change. 
If you want to remove all the stress/organization from your Sri Lankan surf venture, check out Book Surf Camps! They have numerous surf camps for all abilities in the best surf destinations in Sri Lanka.
Surfing in Sri Lanka for Beginners 
In Sri Lanka, there are several epic spots for beginners to surf. During my last trip, I visited with my sister and found Baby Point in Arugam Bay was the best beginner surf spot in Sri Lanka. It's a point break/beach break and has everything you need in terms of hire and surf schools right there on the sand. Alternatively, on the South Coast, head to Weligama, a long mellow bay perfect for learning! In most spots in Sri Lanka, you can hire a surfboard for less than $5 per hour. 
Tips for Surfing in Sri Lanka
It's ridiculously hot in Sri Lanka and it's some of the warmest waters I've ever had the pleasure of surfing in. Anytime after 10 a.m., the heat is intense and you'll need good zinc, sunscreen, a surf hat, and a rash vest/t-shirt. 
Sri Lanka is a popular surf destination and therefore, very crowded in the most popular surf towns. Arugam Bay and Hikkaduwa have great waves and are always crowded with locals and visiting surfers on the best days. 
One thing that can be shocking if you're visiting Sri Lanka for the first time is the roads. Which are hectic, to say the least! Undertaking, risky overtakes, and buses that drive way too fast are all part of the daily driving experience here. I'd only suggest driving in Sri Lanka if you're comfortable on these types of roads. 
Sri Lankans are extremely warm and welcoming people and you can expect open arms and good vibes in most places. However, the hassle culture can be a shock to some Westerners. For example, walking along the street and getting hassled to get a tuk-tuk taxi, can feel annoying. But simply say no with a smile and you'll be fine. 
While Sri Lankanss are friendly and welcoming people, in many hotels and restaurants, the level of hospitality in restaurants, and accommodations is generally (not always) lower than you might expect in the West. 
The food is frickin amazing in Sri Lanka and I'd highly recommend eating the local cuisine. Roadside rotis, pancake rolls, and snacks are so tasty and cost next to nothing. For meals check out dhal curries and the local buffet-style establishments are always cheap and always good. In major surf towns, you can find more Western-style restaurants and in the upper-end places, the food will be good, however, sometimes Western-style dishes can be hit and miss. My advice? Go local, just watch out for the spice! 
Sri Lanka - Country Information
Lanauage – Sinhala (Sri Lankan) 
Currency – Sri Lankan Rupees 
Visa – VOA $60 
Across Sri Lanka, there are some epic national parks to check out. Yalla near Arugam Bay is a great option to see Elephants and even leopards if you're lucky. Or if you have the time, head to Udawalawe National Park (2 hours north of Midigama) and see them up close. 
The hill country is beautiful, with temples, hiking, and beautiful scenery, if you're on a longer surf trip to Sri Lanka, the cooler hill country is a welcome break from the intense heat of the coast. Check out Kandy and Temple of the Tooth or climb Adams Peak. Check out more stuff to do in the hill country here. 
At the right time of year, you can see whales off the southern coastline of Sri Lanka! Check out the watching tours from Mirissa. 
Sri Lanka is one of those must-visit surf destinations and one where you really can't go wrong. For the right points head there between April And October and the opposite season for the south coast. Expect fun, but mellow waves (it never really PUMPS) in Sri Lanka, mellow vibes and good times. The food is excellent, the people are warm, and there's heaps of other cool stuff to do out of the water. For any more information regarding surfing in Sri Lanka, flick me a message below or head over to my YouTube channel.