Two hours south of Melbourne lies one of the most consistent areas for surf in Australia, if not the world. Phillip Island, famous for its penguin parade, wildlife, and dramatic coastline, draws tourists from all over the country. But wildlife and scenery aside, turn your attention seaward, and things get even better. 
With powerful right-hand reef breaks, fun, punchy beach breaks, and some other more sheltered corners where loggers can get their shred on, there's something for everyone down here. As long as you don't mind the cold and weather, you'll always get waves here. In this article, we dive into everything you need to know for surfing on Phillip Island.  
Best time of Year to Surf Phillip Island 
The best time of year to surf on Phillip Island is either in Spring or Autumn (March-May), as this is when the winter swells that march in from the roaring 40s are met with calm conditions and good winds. 
During summer, there's usually something to surf, but things can get a little junky. Whereas in winter, you're often waiting for the swell to come down rather than up, with the coast hammered by storms every week. 
What's the Water Temp & What Wetsuit Do I Need? 
You'll need a 4/3 and boots during winter if you want to stay toastie, whereas in summer, bring a 3/2mm or a short arm for warmer days. 
Recommended rubber – Billabong furnace 4/3mm and 2mm booties. 
Phillip Island Surf Spot Breakdowns 
Cape Woolamai is the main surf spot on Phillip Island—a long stretch of super-exposed beach break that, on its day, can produce epic waves. There are almost always waves here; seriously, I've never seen it flat, and the types of waves you surf will depend on the banks.
The sand dictates what you surf here, and moves frequently, so most of your morning surf check is spent deciding between 1st and 2nd car park, scoping the best banks. 
Forrest Caves is another consistent beach break due west of Woolamai. The shape of the beach here often means waves are slightly more forgiving and els powerful than Woolies. But don't be fooled; there's nearly always something to surf, and if the banks shape up, FCs can produce some of the best banks on the island. 
Surfies Point is a long, albeit fat, right-hand point break in the Surf Beach suburb of Phillip Island. For the older crew and intermediates, Surfies is the focal point for surfing on Phillip Island, and when the swells up, it handles almost anything, grooming those long Southern Ocean lines into rolling burgery rights. Next to it is also a fun beach break which can get super hollow on the right day but, for the most part, is too straight to make. 
On the other side of the island is a long, fun right point. Flynns is a rippable wave that needs a bit of swell to get working. While the southerlies below the southern end of the island pout, Flynnas can offer beautiful clean walls to rip into; just watch the crowds. This one is pretty popular. 
If you're a beginner surfer on Phillip Island, Smiths Beach is your go. A semi-protected bay with fun rolling whitewater is ideal for learning. This is where Island Surfboards and Surf School run their lessons from. On bigger days, Smiths can be fun for advanced surfers offering punchy peaks out the back. A good spot to check when it's onshore. 
Known for the tourist attraction that brings thousands to his beach every year, Penguin Parade has fun waves as well. Known locally as center crack, Penguins is another fun right point (you can see the theme here, right)? And it can be fun on bigger swells. The wave wraps in around the headland and doubles up over a shallower patch of the reef before (sometimes) connecting into a shore break closeout section. 
Located 2 hours south of Melbourne, Phillip Island is located in the Bass Coast region of Victoria, Australia. Simply head down the Monash freeway and follow the signs, or just use Google Maps. The traffic in and out of Melbourne can be gnarly, though! 
To score waves, you'll need a car on Phillip Island. Despite the island's size of only 20kms across, the surf spots are spread actress its entirety, so either hire a car from the airport in Melbourne and make the drive yourself or there are buses to the main town (Cowes), but ideally, you don't want to rely on this to surf. 
Tips for Surfing Phillip Island 
Get ready for the cold when surfing Phillip Island. I mean, I'm front the UK, so I don't mind it as much, but if you're coming down from up north in Australia, you'll be shocked at how cold the place can get. We're talking ice cream headaches and ice-cool winds in winter. Even during summer, cold currents can make the water feel chilly! 
While the islands aren't particularly crowded, there are enough spots to spread things out. The best banks and best reefs, when they're on, are usually crowded as a lot of people surf here, and even more people come down to surf. So as always, respect the locals. 
Consistency & Surf Forecast 
To get up close and personal with Kangaroos, Koalas, Emus, and Wallabies, check out Phillip Island Wildlife Park. A wicked little park just outside of Cowes that allows you to feed Kangaroos from your hand and check out some quintessential Australian wildlife. Tickets cost $20. 
Phillip Islands' most famous attraction, Penguin Parade, has been set up sot hat you can go and see Penguins come in for nesting every night. This is, by far, the main tourist draw here, and people flock in their thousands to come and see the smallest species of penguin in the world waddle up the beach each night. 
For the island's most dramatic coastline, head out to The Nobbies, A wild and rugged slice of coast, where swells batter the basalt rocks below. Head out on the walkway and check out the blowhole or take the drive slowly around the winding clifftop path–awesome when the swells big.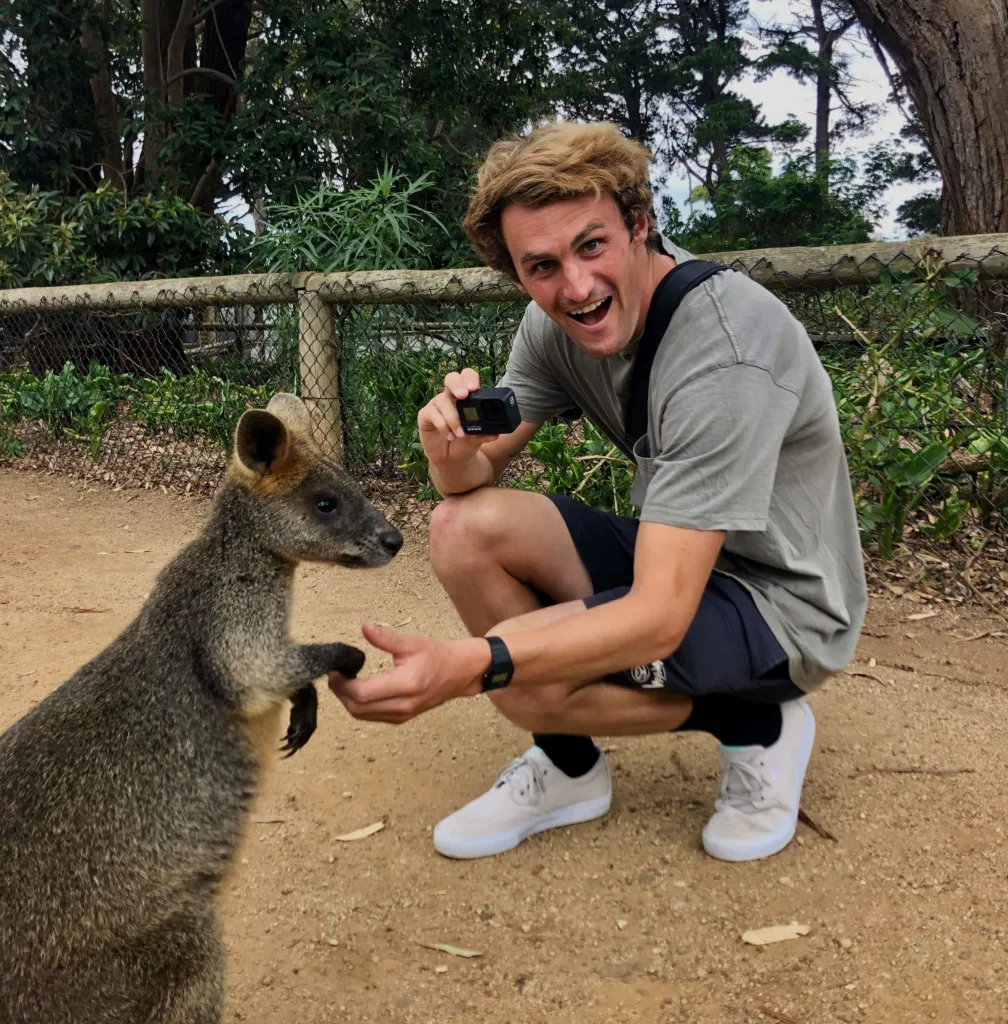 It's no doubt the place offers incredible waves, consistency, and variety. After all, the island has produced the likes of Sandy Ryan, Carl Wright, and Van Dykes. As long as you don't mind the cold and the weather, Phillip Island is one of the best places to be a surfer in all of Victoria, if not Australia. For more information on surfing in Phillip Island, please comment below; I'd love to help! 
Hey guys! If you're interested in learning how to make any surf trip happen, I've made a free workshop that details everything I do to afford my surf trips. I'm not a pro surfer, and I don't have rich parents; I just have a specific mindset and learned a few online skills, and to be honest, if I can travel and surf full time, so can you… Sign up here. It's free!